All Hemprichs - in earlier times as well as today – can be assigned to three main lines, which are probably directly related to each other.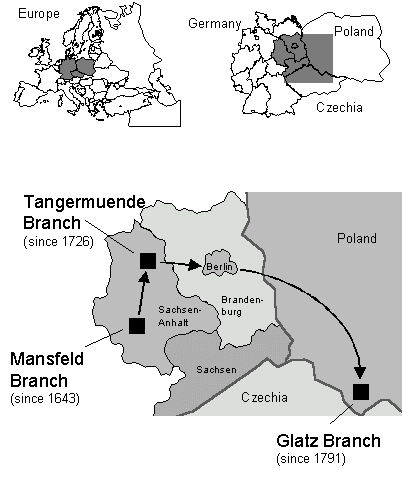 The Mansfeld Branch (since 1643)
The Mansfeld Branch, which a lot of today's Hemprichs descend from, goes back to Hans Hemprich, a shepherd, who married in 1643. After the Thirty Years' War, he settled as a farmer in Rottelsdorf in the Mansfeld county west of Halle/Saale, Germany. Although several church records and property contracts prove the life of Hans Hemprich, his origin has not been found yet. The first Hemprichs from the Mansfeld county worked as farmers. In the following generations, several descendants worked as shoemakers and miners. Wellknown descendants of the Mansfeld branch are the teacher Karl Hemprich (born in 1867), who published several textbooks about padagogics and youth welfare, and the museum's director August Hemprich (born in 1870), who lived in Halberstadt, Germany.
The Tangermuende Branch (since 1726)
The Tangermuende Branch, which most of today's Hemprichs descend from, goes back to Johann Christoph Hemprich, who settled in Tangermuende (west of Berlin, Germany) around 1730. Johann Christoph Hemprich migrated to Tangermuende with the Prussian cavalry regiment "von Bredow". Since the trace of this regiment leads back to the Mansfeld county, the descent from the Mansfeld Branch is very likely. A church record in the village of Wanzleben – half the way between Mansfeld and Tangermuende – is the oldest document of the Tangermuende Branch. In the Tangermuende Branch, the shoemaker profession was very common. A later descendant married the daughter of a brewery owner. The brewery – since then under the name of Hemprich - existed until the beginning of the 20th century.
The Glatz Branch (since 1791)
In fact, the Glatz Branch consists only of a single family, which was founded by the military surgeon Carl Christoph Hemprich, who married in Glatz in 1791. Although the church records mention Berlin as his place of origin, his link to the Hemprich-pedigree has not been uncovered yet. The importance of the Glatz Branch is based on the famous Africa explorer Wilhelm Hemprich (born in 1796) and the spa doctor Karl Hemprich (born in 1798), both sons of the surgeon Carl Christoph. Since both had no children, there do not exist any descendants of the Glatz Branch.